Why Metal Roof?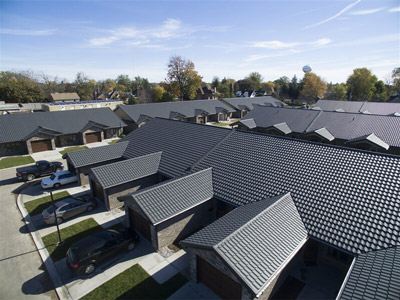 Our clients sometimes ask us why we so adamantly recommend metal roofing to everyone we do business with. While there are countless reasons why metal roof products should be your first choice, here are some of the best reasons why our metal roofing London installation service is the most ideal choice for your home or commercial business:
Covering your commercial or residential structure with metal roofing can help your home and business retain its temperature which greatly reduces your electricity consumption all year round.
Our metal roofing London contractors offer full warranties for our products and services.
We offer a wide range of beautiful metal roofing options that will boost the curb appeal of your home or company.
Metal roofs require zero to little maintenance and very rarely require any reapirs or replacements
Roofing materials go up in price every few years - by investing in reliable steel or metal roofing that will last a lifetime you will be able to save a fortune that easily outweighs the initial metal roofing installation cost.
High-quality metal roofing materials will thoroughly protect your investment from the harshest Canadian weather conditions including heavy snow, downpour, hail, and more.
Metal roofs are ultra-resistant to curling, peeling, cracking, and fading and will retain their form for an exceedingly long time.
Have these advantages convinced you to choose our metal roofing installation services? If so, our metal roofing London team will be more than happy to guide you through our entire roofing process from start to finish. From planning to execution and follow-up support, we will take care of everything to ensure flawless results and your total satisfaction. Feel free to browse our photo gallery to take a look at some of our beautifully finished roofing projects. Green Metal Roofing And Manufacturing Inc. is your number one professional roofing destination in Southern Ontario. Contact us to learn more about our company and schedule a free meeting with one of our spectacular metal roofing London experts! Our current service region encompasses London, St. Thomas, Ingersoll, Woodstock, Tillsonburg, Delhi, Simcoe, Stratford and many other surrounding neighbourhoods.