Metal Roofing Strathroy, Ontario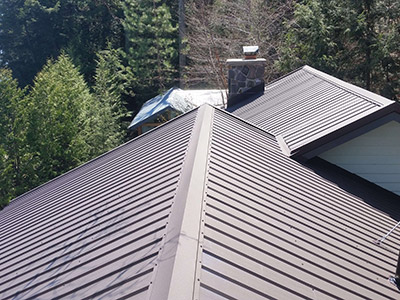 Welcome to Green Metal Roofing And Manufacturing Inc.! Our metal roofing London experts offer superior metal roofing services all over Southern Ontario, in Strathroy, London, St. Thomas, Tillsonburg, Ingersoll, Woodstock, and nearby cities. With nearly 40 years operating in the roofing industry, we have learned that metal roofing is the best and most cost-effective option for all kinds of homes and commercial buildings, outperforming traditional roofing materials like fiberglass, clay or concrete tiles, and asphalt shingles. When some of our clients ask our metal roofing Strathroy experts why a metal roof is better than the alternatives, we explain that all roofing is not created equal! Our metal roofing represents a significant investment in the future of your property offering unbeatable protection for years to come as well as many other long-term savings and benefits. Our warm summers, cold and icy winters and ample precipitation mean that a roofing system has to be strong enough to withstand everything Mother Nature has to offer! The steel and metal roofing systems installed by our metal roofing Strathroy experts are proven to provide lasting all-season protection, guaranteed. Our metal roofing systems are:
Ontario-weather tested
Well-insulated for all kinds of outdoor conditions
Waterproof & rust/corrosion/stain resistant
Tested for impact resistance
Fire & lightning safe
Affordable & long-lasting for long-term savings
Attractive & lightweight
Sustainable & environmentally-friendly
Made from recycled materials
Low-maintenance & easy to clean
Durable & tough
Covered by a full warranty!
With the average cost of steel and metal roofing materials doubling on average every ten years, the lifetime of our durable and low-maintenance metal roofing systems easily pays for itself over time. Resistant to water, corrosion, and rust, our metal roofing Strathroy contractors provide low-maintenance metal roofing systems that virtually eliminate the need for constant upkeep, saving you effort, time, and money. Our metal roofing installation services produce a seamless surface that promotes better energy efficiency and greatly reduces heating costs. Sustainable and eco-friendly, our superior metal roofing products are made from recycled materials and our metal roofing is 100% recyclable at the end of its life cycle. Our roofing is available in a variety of attractive colours, designs, and finishes which can be tailored to suit homes or commercial buildings of any style or size. Our metal roofing London company offers metal roofing installation to commercial and residential clients with services in Strathroy, London, St. Thomas, Tillsonburg, Ingersoll, Woodstock, and many other nearby communities. To learn more about why a metal roof is ideal for your Southern Ontario home or business, contact our metal roofing Strathroy team today to request a quote and a free consultation!
"I am so pleased with the overall service I received from Green Metal. The entire process was smooth and quick! I first met with Michael, the salesman's who was extremely kind and respectful. He took the time to answer all the questions I had with no issue and everything that was promised was delivered. The contractors worked efficiently and did a great job. They were also very kind and respectful. I usually don't take the time to write reviews, but I had to here because I was so pleased. My roof looks amazing, I love it! We've gotten so many compliments. I'm glad also very glad we don't have to change shingles anymore."
Abdul – Brampton, Ontario
Strathroy, Ontario facts and figures:
Strathroy, Ontario is part of the larger township of Strathroy-Caradoc.
Primarily rural with agriculture and farming among the chief industries, Strathroy is sometimes called the turkey capital of Canada.
Cities that are close in distance to Strathroy include Tillsonburg, Lambton Shores, and Saint Marys.
Strathroy, Ontario neighbouring cities:
Stratford, Aylmer, Dutton - Dunwich, St. Thomas, Ingersoll, Woodstock