Metal Roofing London, Ontario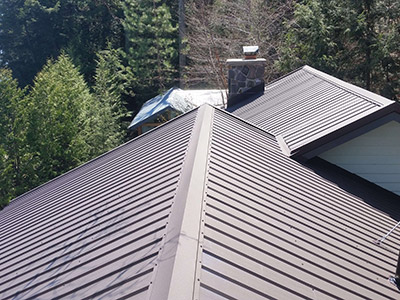 Welcome to Green Metal Roofing And Manufacturing Inc.! Our metal roofing London experts offer superior metal roofing services all over Southern Ontario. We service home and commercial business owners in London, St. Thomas, Strathroy, Tillsonburg, Ingersoll, Woodstock, and nearby communities. After close to 4 decades operating in the roofing industry, our company has found that metal roofing consistently outperforms fiberglass, clay and concrete tiles, asphalt shingles, and other conventional roofing materials. When some of our clients wonder why a metal roof is better than the alternatives, our metal roofing London experts explain that not all roofing is created equal! With unbeatable protection for your property for years to come and many other cost savings and benefits, metal roofing represents a significant investment in the long-term future of your property. Our warm summers, cold and icy winters and ample precipitation mean that Southern Ontario roofing systems have to be strong enough to withstand everything Mother Nature has to offer! The metal roofing installed by our metal roofing London experts have been proven to provide lasting all-year / all-season protection, guaranteed. Our exquisite metal roofing systems are:
Ontario-weather tested
Well-insulated for all kinds of climates
Waterproof & rust/corrosion/stain resistant
Tested for impact resistance
Fire & lightning safe
Affordable & long-lasting for long-term savings
Attractive & lightweight
Sustainable & environmentally-friendly
Made from recycled materials
Low-maintenance & easy to clean
Durable & tough
Covered by a complete warranty!
Our selection of quality roofing products is guaranteed to last without replacement or repair. Our metal roofing London team provides low-maintenance metal roofing systems that are resistant to water, corrosion, and rust, virtually eliminating the need for constant upkeep that saves you effort, time, and money. Our technicians will produce a seamless surface to promote better energy efficiency and reduce heating costs. Sustainable and eco-friendly, our superior metal roofing products are made from recycled materials and our metal roofing is 100% recyclable at the end of its life cycle. Our steel and metal roofing is available in a variety of attractive colours, designs, and finishes, all of which can be tailored to suit homes or commercial buildings of any style or size. Our metal roofing London company offers metal roofing installation for commercial and residential structures with services available for London, St. Thomas, Strathroy, Tillsonburg, Ingersoll, Woodstock, and many other nearby communities. To learn more about why a metal roof is ideal for your Southern Ontario home and business, contact our metal roofing London team today to request a quote and a free consultation!
"Thank you Green Metal Roofing and Manufacturing Inc. for our amazing new steel roof!! They changed the eavestroughs, downspouts and siding to white too. Sebastian was a very knowledgeable sales rep and they had a friendly roofing crew. Definitely recommend them to anyone thinking of a new roof. We got 5 steel roof quotes and this one was the best! The owner, Stan, even did the final inspection to make sure that we were completely satisfied with the work after the job was done. The whole job was completed in about four to five days. They even let us keep the extra pieces of metal sheets so we can do a shed in the future."
Lisa - Hamilton, Ontario
London, Ontario facts:
London is not far from the cities of Woodstock, Laurentian Hills, and Plympton-Wyoming, Ontario.
Just like the British city that the city was named after, Ontario's London also has a Thames River running through it.
London hosts a wide variety of festivals, some of which include the Sunfest world music festival, the Toronto Caribbean Carnival, and the Home County Folk Festival.
Cities near London, Ontario:
Aylmer, Petrolia, Saint Marys, St. Thomas, Strathroy, Tillsonburg