Metal Roofing Woodstock, Ontario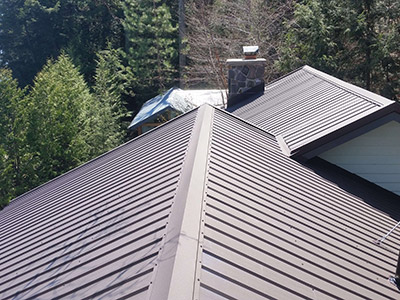 The metal roofing London experts from Green Metal Roofing And Manufacturing Inc. offer superior steel and metal roofing solutions throughout Southern Ontario, in such cities as Woodstock, London, St. Thomas, Strathroy, Tillsonburg, Ingersoll, and nearby communities. With close to 4 decades of experience in the roofing industry, our company has found that metal roofing consistently outperforms fiberglass, clay or concrete tiles, asphalt shingles, and other conventional roofing materials. When some of our clients wonder why a metal roof is better than the alternatives, our metal roofing Woodstock experts explain that not all roofing is created equal! Offering unbeatable protection for your property for years to come, our metal roofing represents a significant investment in the future of your property with many hidden savings and other benefits. The Southern Ontario climate means that our steel and metal roofs have to be tough enough to handle everything Mother Nature has to offer! The metal roofing systems installed by our metal roofing Woodstock experts have proven to provide lasting all-year protection, guaranteed. Our metal roofing systems are:
Ontario-weather tested
Well-insulated for all kinds of temperatures
Waterproof & rust/corrosion/stain resistant
Tested for impact resistance
Fire & lightning safe
Affordable & long-lasting for long-term savings
Attractive & lightweight
Sustainable & environmentally-friendly
Made from recycled materials
Low-maintenance & easy to clean
Durable & tough
Covered by a complete warranty!
Our selection of quality steel and metal roofing products are guaranteed to outperform traditional roofing materials without the hassle of replacement or repair which saves you money, time, and effort. Our metal roofing Woodstock contractors provide low-maintenance metal roofing systems that are resistant to water, corrosion, and rust, virtually eliminating the need for constant upkeep. Our metal roofing creates a seamless surface that improves energy efficiency and reduces overall heating costs. Sustainable and eco-friendly, our superior steel and metal roofing products are made from recycled materials and are 100% recyclable at the end of their life cycle. Our steel and metal roofing can be customized to suit any style of home or commercial structure and is available in a wide selection of attractive colours, designs, and finishes. Our metal roofing London company offers metal roofing installation to commercial and residential customers in and around Woodstock, London, St. Thomas, Strathroy, Tillsonburg, and Ingersoll. To learn why a metal roof is ideal for your Southern Ontario home or business, contact our metal roofing Woodstock team to request a quote and a free consultation!
"After researching a few metal roof companies and requesting quotes, we decide to hire Green Metal Roofing to redo our roof and eavesdrop. Stan and his team were excellent from the beginning to the end. They are very professional and will listen attentively to any concerns and/or requests. You can definitely tell they take pride in their work and strive to be the best in the business. I am beyond satisfied with the final product and wouldn't hesitate to recommend them to my family and friends."
Eric - Acton, Ontario
Facts about Woodstock, Ontario:
The city motto of Woodstock, Ontario is "The Friendly City".
Woodstock is known as the dairy capital of Canada.
Neighbouring cities of Woodstock include Ingersoll, Aylmer, and Saint Marys.
Cities surrounding Woodstock, Ontario:
Brant, Dutton - Dunwich, Stratford, London, St. Thomas, Tillsonburg