Metal Roofing Installation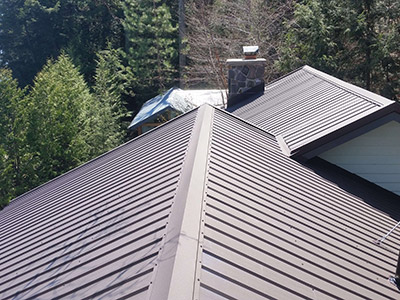 Are you in need of a brand-new roofing system for your newly-purchased home or established commercial business? Old roof long overdue for a replacement or repair? Whatever your roofing needs are, we guarantee that our metal roofing installation service is right for you. Green Metal Roofing And Manufacturing Inc. proudly offers top-of-the-line metal roofing services to clients all over Southern Ontario at affordable rates. Our metal roofing London contractors have years of professional experience in the field and have all the required certifications and insurance to ensure seamless results every time. Our company has steadily climbed its way towards the top of the industry and will never stop working to hone and improve our services even further! Our workmanship guarantee includes a full roofing product and service warranty that far exceeds those offered by most run-of-the-mill roofing companies. With our rigid and long-lasting metal roofing installation services, you won't have to worry about maintaining, repairing, or replacing your residential or commercial roofing system for a lifetime.
Wondering about colour and design options regarding our metal roofing installation services? Discuss our company's wide range of stunning textures and eye-catching styles with our metal roofing London contractors. Our attractive steel and metal roofing materials are engineered to withstand scratches, peeling, curling, and fading and will retain their amazing looks for years on end:
Trapeze metal roofing
Laid vertically, horizontally, or diagonally, Trapeze metal roofing sheets can used for residential or commercial elevations, roofs (including large roof spans), garages, gates, fences, and facade claddings. They are characterized by their rigid construction and are very durable and economical.
Elite metal roofing
Elite metal roofing panels have a similar profile when compared to our Trapeze style, and offer a clean look when applied to a variety of residential commercial or residential structures including contemporary homes, modern garages, and more.
Riviera steel roofing
Our Riviera steel roofing panels are modular, state-of-the-art products designated for commercial and residential roofing. With custom cut lengths, each Riviera panel is 4 feet wide and installed side by side over a grid of double strapping. This secure method of installation provides one full length of steel roofing from peak to eavestroughs.
Prestige steel roofing
Similar to our Riviera profile, our modular Prestige steel roofing panels are yet another exceptional roofing product option from Green Metal Roofing And Manufacturing Inc. Also available in custom cut lengths and 4 foot widths, our Prestige panels are securely doubled strapped side by side, thus providing one full length of steel from peak to eavestroughs.
Be sure to check out our photo gallery to view some of our gorgeous steel and metal roofing installation projects! Do you have any questions about our company? Wonder why metal roof products are so popular? Feel free to direct all of your questions towards our friendly metal roofing London consultants! We are more than happy to explain our metal roofing installation process and will provide as much detail as possible in order to help you make a fully informed decision. Check out our testimonials page to learn about our commitment to stellar customer service! Whenever you are ready to schedule a meeting with the best roofers near you, contact us at any time! You can reach our talented roofing contractors in and around London, St. Thomas, Ingersoll, Woodstock, Tillsonburg, Delhi, Simcoe, Stratford and surrounding cities.