Metal Roofing Tillsonburg, Ontario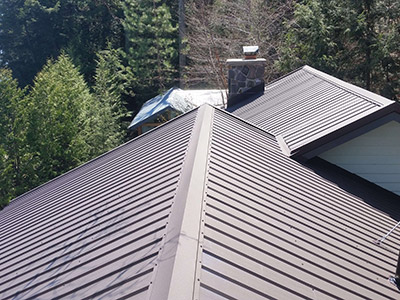 Welcome to Green Metal Roofing And Manufacturing Inc.! Our metal roofing London experts offer superior steel and metal roofing products and services all over Southern Ontario including in London, St. Thomas, Strathroy, Tillsonburg, Ingersoll, Woodstock, and nearby cities. With almost 40 years of experience in the roofing industry, we have learned that metal roofing will consistently outperform fiberglass, clay or concrete tiles, asphalt shingles, and other conventional roofing materials. When some of our clients ask our metal roofing Tillsonburg experts why a metal roof is better than the alternatives, we explain that not all roofing is created equal! Our metal roofing represents a significant investment in the future of your property, offering unbeatable protection for years to come as well as many other long-term savings and benefits. The Southern Ontario climate means that our steel and metal roofing products have to be tough enough to handle everything Mother Nature has to offer! The metal roofing systems installed by our metal roofing Tillsonburg experts are proven to provide lasting all-year protection, guaranteed. Our steel and metal roofing systems are:
Affordable & long-lasting for long-term savings
Attractive & lightweight
Tested for impact resistance
Fire & lightning safe
Sustainable & environmentally-friendly
Made from recycled materials
Low-maintenance & easy to clean
Durable & tough
Ontario-weather tested
Well-insulated for all kinds of climates
Waterproof & rust/corrosion/stain resistant
Covered by a full warranty!
With the average cost of roofing materials doubling on average every ten years, the lifetime of our durable and low-maintenance metal roofing remains economical and easily pays for itself which saves you money, time, and effort. Our metal roofing Tillsonburg team provides low-maintenance metal roofing systems that are resistant to water, corrosion, and rust, virtually eliminating the need for constant upkeep. Our metal roofing installation services produce a seamless surface that promotes better energy efficiency and greatly reduces heating costs. Sustainable and eco-friendly, our superior steel and metal roofing products are made from recycled materials and are 100% recyclable at the end of their life cycle. With availability in a variety of attractive colours, designs, and finishes, our metal roofing can be tailored to suit any style of house or commercial building. With our stellar commercial and residential metal roofing installation skills, our metal roofing London company serves London, St. Thomas, Strathroy, Tillsonburg, Ingersoll, Woodstock, and nearby towns. Learn more about why a metal roof is ideal for your Southern Ontario home or commercial business and request a quote with a free consultation by contacting our metal roofing Tillsonburg team!
"Thank you Stan, Mike and crewmen for the wonderful work. We were amazed at the speed and professionalism of your men. 2 days for a beautiful Riviera Chocolate brown roof the neighbours stopped by to express interest and compliments. Have a profitable summer! Everyone should change to metal roofs, since all the shingles go to the landfills. Green Metal means really thinking about the future!"
Anna – Mississauga, Ontario
Tillsonburg, Ontario facts:
The Tillsonburg area was settled by George Tillson and fellow immigrants from Enfield, Massachusetts in 1825.
Because Tillsonburg developed as a logging and logging-related industry town, the streets were built wide enough to accommodate three-team logging wagons, making its streets wide to this day.
The cities of London, St. Marys, and Stratford are within driving distance from Tillsonburg.
Cities around Tillsonburg, Ontario:
Aylmer, Brant, Laurentian Hills, St. Thomas, Ingersoll, Woodstock