Metal Roofing Ingersoll, Ontario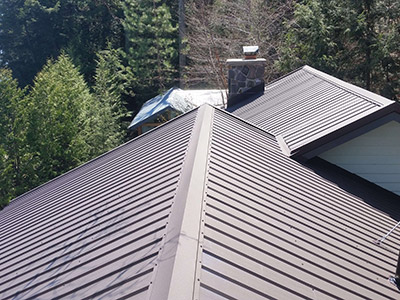 Welcome to Green Metal Roofing And Manufacturing Inc.! Our metal roofing London experts offer superior metal roofing services in Ingersoll, London, St. Thomas, Strathroy, Tillsonburg, Woodstock, and nearby cities. During our many years of experience in the Southern Ontario roofing industry, we have learned that metal roofing will consistently outperform fiberglass, clay or concrete tiles, asphalt shingles, and other conventional roofing materials. When some of our clients wonder why a metal roof is better than the alternatives, our metal roofing Ingersoll experts explain that all roofing is not created equal! With unbeatable protection for your home or commercial property for years to come and many other hidden savings and benefits, metal roofing represents a significant investment in the long-term future of your property. The Southern Ontario climate means that our roofs have to be tough enough to handle a bit of everything that Mother Nature has to offer! The metal roofing systems installed by our metal roofing Ingersoll experts are proven to provide lasting year-round, all-season protection, guaranteed. Our metal roofing systems are:
Sustainable & environmentally-friendly
Made from recycled materials
Affordable & long-lasting for long-term savings
Attractive & lightweight
Tested for impact resistance
Low-maintenance & easy to clean
Durable & tough
Southern Ontario weather tested
Well-insulated for all kinds of conditions
Waterproof & rust/corrosion/stain resistant
Fire & lightning safe
Covered by a full warranty!
While the cost of conventional roofing materials is expected to double every 10 years, all of our metal roofing products remain affordable. Our metal roofing Ingersoll team provides low-maintenance steel and metal roofing systems that are resistant to water, corrosion, and rust which virtually eliminates the need for constant upkeep, saving you effort, time, and money. Our metal roofing installation services produce a seamless surface that promotes better energy efficiency and greatly reduces heating costs. Sustainable and eco-friendly, our superior metal roofing products are made from recycled materials and our metal roofing is 100% recyclable at the end of its life cycle. With availability in a variety of attractive colours, designs, and finishes, our roofing can be tailored to suit any style of house or commercial building. Our metal roofing London company offers metal roofing installation for commercial and residential structures throughout Ingersoll, London, St. Thomas, Strathroy, Tillsonburg, Woodstock, and many other nearby communities. To learn more about why a metal roof is ideal for your Southern Ontario home or business, request a quote and a free consultation by contacting our metal roofing Ingersoll team today!
"From the beginning, I was very impressed with the quick response time, within the hour, and professional follow up from this company. Compared with other companies in London, I was able to book in my roof to be completed within a 6 week timeline. Our metal roof is beautiful and we couldn't be happier. It took approximately 2 weeks to complete from start to finish. The crew took great pride in their work, took time to discuss progress in day to day work with us, as well as workdays on the weekend to complete the job within the promised 2 week timeline. I would highly recommend this new and up and coming company!"
Kellie – London, Ontario
Facts about Ingersoll, Ontario:
Ingersoll is situated close to the cities of St. Thomas, Brant, and Dutton - Dunwich.
The Ingersoll area was home to some of the first cheese factories in Canada.
Ingersoll is home to many agricultural festivities such as the Pumpkin Fest and the Harvest Fest.
Cities close to Ingersoll, Ontario:
Laurentian Hills, Saint Marys, Stratford, Tillsonburg, Strathroy, Woodstock