Metal Roofing St. Thomas, Ontario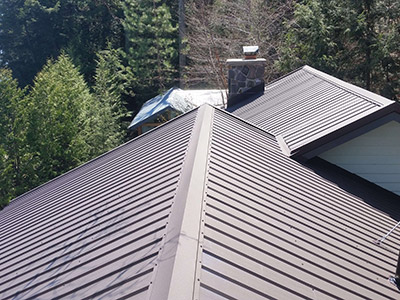 The metal roofing London experts from Green Metal Roofing And Manufacturing Inc. provide superior metal roofing services all over St. Thomas, London, Strathroy, Tillsonburg, Ingersoll, Woodstock, and nearby Southern Ontario cities. With close to 4 decades operating in the roofing industry, we have learned that metal roofing is the best and most cost-effective option for all kinds of homes and commercial buildings, outperforming traditional roofing materials like fiberglass, clay or concrete tiles, and asphalt shingles. When some of our clients wonder why a metal roof is better than the alternatives, our metal roofing St. Thomas experts explain that all roofing is not created equal! With unbeatable protection for your property for years to come and many other hidden savings and benefits, steel and metal roofing represents a significant investment in the long-term future of your property. With warm summers, cold and icy winters and plenty of precipitation, Southern Ontario's unique weather means that your roofing system must be tough enough to handle a bit of everything Mother Nature has to offer! Our metal roofing St. Thomas professionals only install metal roofing systems that are proven to provide lasting all-season protection that is guaranteed. Our metal roofing systems are:
Affordable & long-lasting for long-term savings
Attractive & lightweight
Tested for impact resistance
Fire & lightning safe
Sustainable & environmentally-friendly
Made from recycled materials
Low-maintenance & easy to clean
Durable & tough
Ontario-weather tested
Well-insulated for all kinds of weather
Waterproof & rust/corrosion/stain resistant
Covered by a complete warranty!
While the cost of conventional roofing materials is projected to double every 10 years, all of our steel and metal roofing products remain affordable and are backed by our comprehensive warranty which ultimately saves you money, time, and effort! Our metal roofing St. Thomas team provides low-maintenance metal roofing systems that are resistant to water, corrosion, and rust, virtually eliminating the need for constant upkeep. Our metal roofing installation services produce a seamless surface that promotes better energy efficiency and greatly reduces heating costs. Sustainable and eco-friendly, our superior metal roofing products are made from recycled materials and are 100% recyclable at the end of their life cycle. Our steel and metal roofing can be customized to suit any style of home or commercial building and is available in a wide selection of attractive colours, designs, and finishes. With outstanding commercial and residential metal roofing installation, our metal roofing London company serves St. Thomas, London, Strathroy, Tillsonburg, Ingersoll, Woodstock, and nearby towns. Learn more about why a metal roof is ideal for your Southern Ontario home our commercial venture today, and request a quote with a free consultation by contacting our metal roofing St. Thomas team!
"Green Metal Roofing & Manufacturing Inc. is one of our main supplier for our metal roof installation projects in Mississauga and GTA. Great customer service. High quality products. Years of practical experience in metal roofing industry. Immediate response for all related inquiries. Hard working owners and staff. Friendly team of professional. I would highly recommend them to all interested in metal roofs. Thank you for your excellent services."
Mario - Mississauga, Ontario
Interesting facts about St. Thomas, Ontario:
St. Thomas, Ontario developed from its location at the intersection of two historical roads and was first settled in 1810.
The famous elephant, Jumbo, who toured the world with PT Barnum's circus in the late 19th century as the world's biggest elephant, died in St. Thomas in 1885, after being hit by a locomotive. A life-sized statue was erected in 1985.
Strathroy, Petrolia, and Stratford are near St. Thomas, Ontario.
St. Thomas, Ontario neighbouring cities:
Aylmer, Saint Marys, Lambton Shores, Ingersoll, Tillsonburg,London